Air Purification Services in Savannah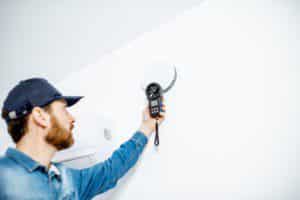 Are you concerned about your indoor air quality? Would you like to know more about indoor air purification in Savannah but you're not sure where to start?
Give us a call at Service Emperor to find out everything you need to know about air purification in Savannah. We'll get someone to your door soon to help you decide if you need to improve your indoor air quality and, if you do, how best to achieve that given your specific needs. Make your appointment today to get cleaner air soon.
Do I Need Home Air Purification in Savannah?
If you're new to thinking about indoor air purification in Savannah or you've never had an air purification system before, you may not be convinced that you need one. We can come out and test your indoor air quality to let you know what we find.
You may also want an air purification system in Savannah if:
You or someone in your home struggles with asthma, allergies, or other breathing difficulties. Air purifiers in Savannah can remove substances from your air that make these conditions worse.
You live near construction sites. These tend to release a lot of dust and other particles that can pollute your air, even inside.
You worry about mold and mildew. Our systems can eradicate these from the air you breathe every day.
What are My Options for an Air Purification System in Savannah?
You have many options when it comes to air purification in Savannah.
We can use everything from advanced filters for your furnace and air conditioner to room air purifiers in Savannah to entire air purification systems. The one that is best for you will adequately address your air quality needs, suit the infrastructure you already have in your home, and fit your budget.
Once you've selected your new clean air strategy, we can handle your air purification system installation in Savannah, too. We'll make sure that your new system is working well before we leave, so you don't have to worry about indoor air quality anymore.
Reach out to us at Service Emperor whenever you have questions about home air purification in Savannah or when you're ready to install a new system. We have you covered and we'll get your air clean ASAP.
GET A QUICK QUOTE
Just fill in your basic info below and we'll get in touch with you.