Heating Service in Savannah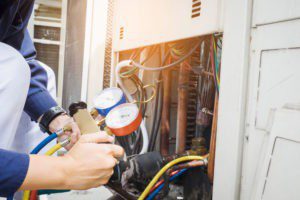 If you are struggling with your home heating in Savannah or you're looking for a heating company that you can trust, call us at Service Emperor today. We'll get out to you quickly and get your heating working the way you need it to once again. No matter what is going on, we'll solve the problem, either with a heating repair or by installing a new heater that will keep you warm this winter.
Heating Repair
Whether your heater is broken and won't heat at all or you're having problems with it, our technicians will get your heating repair completed before you know it. Call us when:
Your heater won't turn on.
Your heater is blowing cold air.
Your heater is blowing lukewarm air.
Your heater won't turn off.
Your heater turns off and on rapidly and repeatedly.
Your heater doesn't respond to your thermostat.
You are cold at home no matter what you do.
Heating Installation
If you're looking for a heating company that will do a heating installation for you fast, call us at Service Emperor. We'll assess your heater usage patterns and your home to make sure we get you the best possible heater. Then we'll recommend heaters that come from brands we have experience with and that we trust. Pick out the new heater that is best for you, then let us order it and install it for you so you can be sure the job was done well. We'll test it before we leave and you can test it, too, so you can feel completely confident that the new heater will work well for you.
Furnace Services
If you use a furnace for your home heating in Savannah, then you are in luck. We offer both furnace repair and furnace installation. Even if you're not sure what you need, call us up and we'll come help you figure that out. We'll look at your furnace, then let you know if we can fix it or if we think you'd be better off with a furnace installation instead. Whether you choose furnace repair or replacement, we'll work hard to get you warm again this winter!
Heat Pump Services
Got a heat pump? No problem! Our experts will perform your heat pump repair or heat pump installation quickly and efficiently so you don't have to stay cold in Savannah this winter. We'll assess your heat pump for repair, but we'll always let you know if a heat pump installation might be better for you. No matter what you choose, we'll get the work completed as soon as we can.
Stay warm in Savannah this winter when you rely on Service Emperor for all of your home heating needs. We'll get there fast and get your heat back on soon! Call to make your appointment today!
FAQ
Does Service Emperor offer Emergency Furnace Repair Services??
Yes, Service Emperor offers weekend and emergency furnace and heating repair services! Check out our emergency furnace repair page for more information, or give us a call!
GET A QUICK QUOTE
Just fill in your basic info below and we'll get in touch with you.